<!tr>
PrimeTimes for Mobiles

FREE mobile-friendly version of the current <!DT> Astro Tables

with any PrimeTimes order!

Have the whole year's best days and best times at your fingertips.

Visit our Catalog for details.
---
Value?
Learning the best places

to go can cost you

$300 per day.

Learning the best times to go

costs only 3 cents per day.
Get your PrimeTimes Wall Calendar today.
Full Catalog
products, photos, info...plus order online with Visa, MasterCard,

Am. Express, Discover, or PayPal.

Quantity Discounts

The best deals on our products
---
PRIMETIMES STUFF
Home Page
A Comparison
Our Wall Calendar

vs. moon tables

<!center> <!font color="blue" font size="-1"> Wall Calendar sample

Wall Calendar layout

Best Days Sample

close up our famous

"Best Days of the Month" chart

Daily Periods Sample

close-up of our peaks-and-valleys format
---
FYI STUFF
Does PrimeTimes really work?
Good info for the newcomer or skeptic.

Solar/Lunar Articles

honest look at the solar/lunar phenomenon

Q & A

does PrimeTimes work for your area? are the lunar times always the best? ...more

What our customers say

About Rick Taylor

PrimeTimes' Creator/Publisher
email us:

primetimes2go@gmail.com


Phone: 515-964-5516

---
<!!-------OLD ASTRO TABLES IMAGE--------->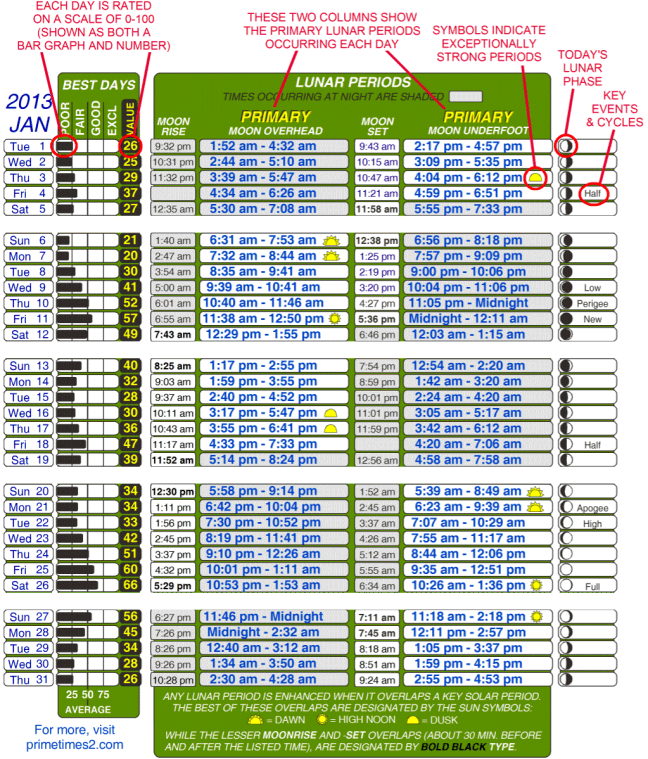 <!center> Actual Size: 4" x 4" (to fit in your pocket or tackle box)

The digital version is crystal sharp on any moblie device.

NOTE: The Astro Tables is an abbreviated "little sister" of our primary forecaster,

the PrimeTimes Wall Calendar, which offers the best when-to-go information,

excluding our software for PCs, Ultimate PrimeTimes.

Click here for a sample.
---
3 WAYS TO ORDER
1. Securely online with your credit card, visit ourFull Catalog (photos and product information).

(The best way to order is online through our catalog. It's fast, safe, and you save on shipping.)

2. By phone with your credit card: 515-964-5516

3. By mail: Send check or money order to:

PrimeTimes

Dept. Net

2487 NW 75th Ave., Ste. 100

Ankeny, IA 50023

We honor MasterCard, Visa, American Express, Discover (debits and credits), and PayPal.

We Ship Fast... in 1-2 Business Days, often the same day!
---
SPECIAL PACKAGE OFFER
For first-time buyers, may we recommend also getting our book,

"How to Know When to Go" by Rick Taylor. It will help you get

the most out of the PrimeTimes calendar, plus answer all your

questions pertaining to this solar/lunar phenomenon.
We offer it in two Special Packages.