<!TD ALIGN=center VALIGN=TOP width="200" COLSPAN=4 ROWSPAN=4>
Sportsman's Appointment

Photo Calendar

For the novice-to-average angler/hunter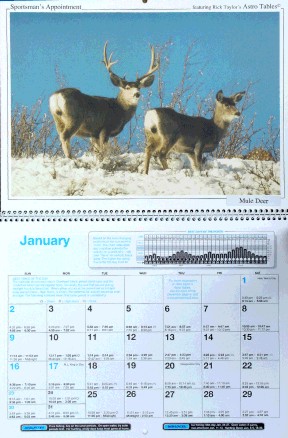 <!IMG SRC="/11pix/SA cover-4.jpg" border="0" width="75" height="95" ><!/A>
2022: $9.95 Details

NOTICE: 2022 is the last year this calendar is offered. Details
---
PrimeTimes for Mobiles

FREE digital version of the Astro Tables with any order!
3 WAYS TO ORDER
1. Online (Highly Recommended)
Fastest service, safe, accurate, available 24-7, and you save on most s&h.

Click on the item(s) above you wish to purchase.

You will go to a Shopping Cart, where you will save up to 17% <!font face="arial, helvetica, sans-serif" size="3" color="red">

on the shipping & handling charges on orders under $49.95.

If your USA order is over $49.95, you will receive FREE
shipping (be sure to select Shipping Method #2).
2. By phone: 515-964-5516
3. By mail: Send check or money order to:

PrimeTimes

Dept. Net

2487 NW 75th Ave., Ste. 100

Ankeny, IA 50023
---

<!IMG SRC="/pages/All credit cards.jpg"> <!IMG SRC="http://www.primetimes2.com/ creditcards-1.jpg">

We ship via:

<!INPUT type="button"value="View Shipping Rates" onClick="window.open('http:/pages/shipping.html','mywindow','width=700', 'height=500')">
(Order before noon CST Mon-Fri and your order usually ships that day.)